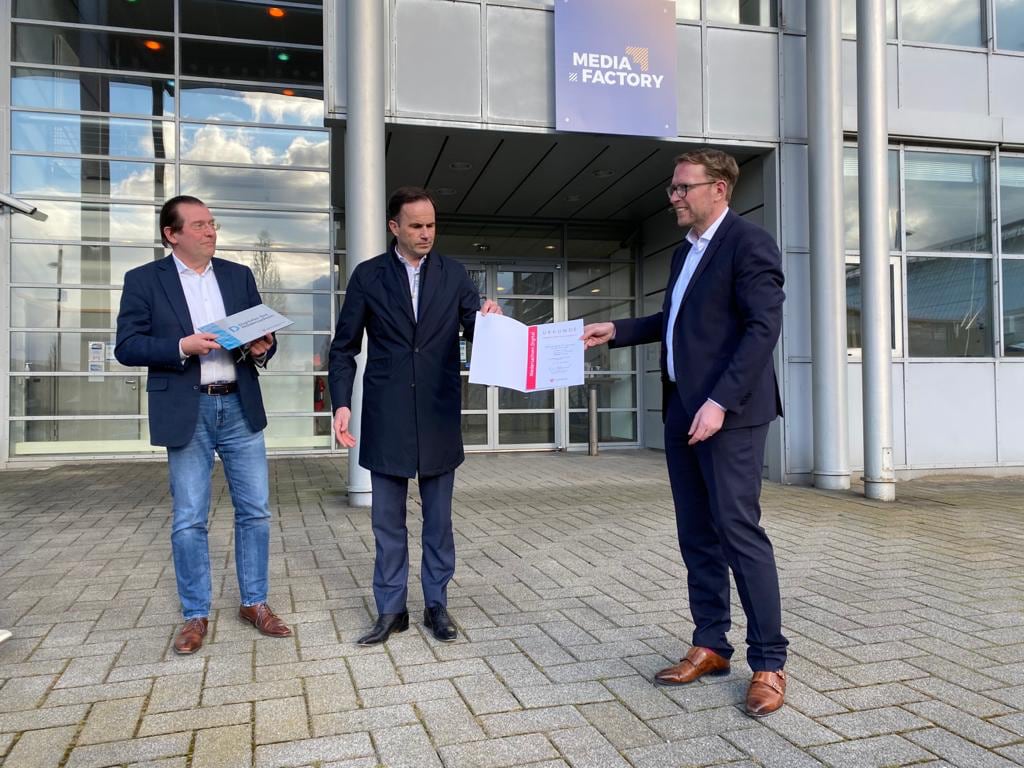 Triple award for the exhibition centre as "Digital Place in Lower Saxony"
"With the "Digital Places in Lower Saxony" award, we are putting the spotlight on initiatives, projects, companies and institutions that are particularly committed to digitalization and thus make an important contribution to the innovative strength of our state," explains Stefan Muhle, State Secretary for Digitalization at the Lower Saxony Ministry of Economics, Labour, Transport, and Digitalization.
"With the onset of the Corona pandemic, we have developed new hybrid and digital event formats to provide our customers with individual solutions for addressing their customers digitally. We have thus quickly created the possibility for virtual marketplaces – across all industries – and thus ensure that supply can meet demand," says Dr. Jochen Köckler, Chairman of the Board, Deutsche Messe AG.
The H'Up is the new, multifunctional event location and, depending on the pandemic, will feature both digital and hybrid events and event formats. The Media Factory is a large-scale streaming studio complex for digital events as well as for the production of professional video and audio recordings. The most recent project is the 5G Smart Venue with the area-wide equipment of the entire site with the 5G mobile radio standard. "With the 5G equipment, we are developing our exhibition grounds into an innovative multifunctional campus," adds Köckler.
Deutsche Messe is adapting its offerings and event formats to the new market conditions and has thus laid an important foundation stone for the future of the company in recent months. "We are pleased that our three new products have been very well-received in the market and have now also been officially recognized by the Lower Saxony Ministry of Economics as "Digital Places in Lower Saxony"," Köckler sums up.
The new "Digital Places in Lower Saxony" at a glance:
The H'Up
The H'Up in the former exhibition hall 18 is a multifunctional event location with a permanently installed but variable streaming studio and can thus be used for online as well as hybrid or live events. With its 3,250 square metres, Hall 18 offers an urban-chic location with five permanently installed streaming backdrops and technology that can be converted as required.
More info
MEDIA FACTORY
The Media Factory Hannover is located in the premises of the former broadcasting centre of the NDR (North German Broadcasting) on the exhibition grounds and offers on 10,000 square metres different studios for online events as well as the production of video and audio contributions. Some studios as well as premises of the Media Factory are available for long-term rental and can be used, for example, as a co-working space.
More info
5G SMART VENUE
In 2021, the largest 5G exhibition centre in Europe will be built in Hanover, equipped with the new, super-fast generation in mobile communications. In close partnership with Deutsche Telekom, Deutsche Messe AG is gradually developing the exhibition grounds into a highly innovative multifunctional campus. Deutsche Telekom is ensuring comprehensive, high-performance 5G coverage over a total area of more than 1.5 million square metres. Telekom is implementing the campus network as a hybrid network. The trade fair thus has a private network that trade fairs and exhibitors can use for their applications. At the same time, visitors to the trade fairs have excellent coverage with the public 5G network on the grounds.
More info