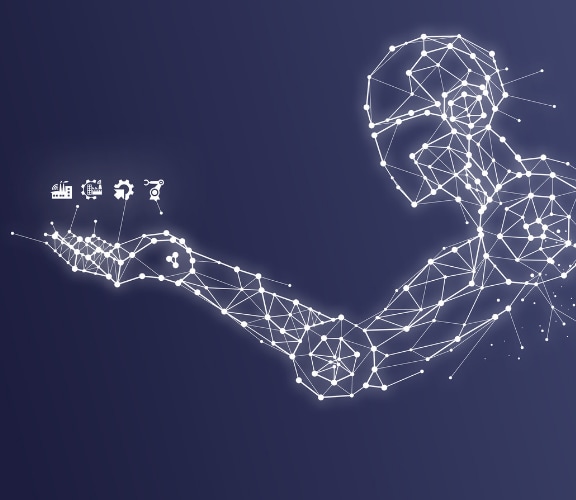 2. Fachkonferenz AI in production
Messegelände/ Pavillon 36, 30521 Hannover
The age of artificial intelligence has dawned and many companies are already using self-learning and semi-autonomous systems. AI will become the decisive global competitive for manufacturing companies.
The new conference AI in Production is mainly oriented towards all those responsible for production across the industries who wish to implement AI in technical reality in an economically expedient manner.  Find out here – behind the buzzwords – what is already possible today, and what will be possible tomorrow. Discuss opportunities, restrictions and risks on-site with the experts.
What to expect at the conference
Networking during the event featuring speeches, panel discussion and joint dinner
Exciting specialist and kick-off speeches as well as breakout sessions
"Learning from the best" – how AI is transforming production
Program Wednesday, 07.10.2020
Check-in: Issue of the conference documents & welcome coffee
Welcome and moderation
Dr. Guido Hertel
Partner and Managing Director, A.T. Kerney GmbH
Arno Reich
Senior Vice President HANNOVER MESSE, Deutsche Messe AG
Keynote
Dr. Oliver Blank
Director European Affairs, ZVEI in Brussels, Managing Director of the European ITC and Consumer Electronics Industry Association EICTA
Integrated Intelligence: Achieving competitive advantages by combining human and artificial intelligence
AI in the form of isolated solutions to increase efficiency, including in production
Integrated intelligence that is difficult for competitors to imitate
Practical examples of large and medium-sized companies and from a study of 30 DAX companies
Prof. Ulrich Lichtenthaler
 International School of Management (ISM), Cologne
Title of presentation follows
N.N.
Keynote: Personalizing the production experience with neuroinformatics – Closed-loop human-machine work stations – Improving safety, wellness and productivity with neuroinformatics – Adaptive executive learning and upskilling with neuroinformatics
Dr. Olivier Oullier
President, EMOTIV 
Refreshment break & Snacks
AI & 5G as enabler for future production
AI based technologies will enhance agility of processes and the capabilities of whole production environments
Combined with 5G wireless communication various new scenarios are possible – from computer vision based real time quality checks to massive application of flexible AVGs
Walter Haas
CTO and Cyber Security Officer, Huawei Technologies Deutschland GmbH
We invite you to our Flying Dinner & Networking with all our speakers in the Exhibition Area
Program Thursday, 08.10.2020
Check-in: Issue of the conference documents & welcome coffee
Use Cases: AI in Production
Welcome and summary of the previous day
Dr. Guido Hertel
Kearney GmbH
AI in Digital Transformation at Bosch
Dr. Katja Laurischkat
Vice President AI in Digital, Bosch Artificial Intelligence Center, Robert Bosch GmbH
Making Manufacturing Smarter with AI
• A strategic roadmap for smart manufacturing transformation
• Digitalization of the Japanese manufacturing principles
• Practical use cases, value created, and key lessons learned
Greg Kinsey
Industry Executive Digital Solutions, Hitachi Vantara
Coffee break & Networking
AI in Production – Benefits, Applications and Limitations
Introduction to AI technologies, – Concrete AI use cases on MindSphere and Industrial Edge, – Limitations and problems in industrial application of AI
Dr. Matthias Loskyll
Head of Industrial AI, Siemens AG 
Designing Industrial AI – Journey from initial idea to accurate predictions
The big Industry 4.0 vision is that one day production lines will be aware of process anomaly and be able to correct it autonomously. Why is this revolution not happening in the pace we want? "What is blocking our progress toward the vision?"
Industrial data is often "dirty/non-insightful", and conclusions based on this data often less conclusive than it seems
To achieve insightful predictions, big investment has to be devoted into collecting a) process, b) outcome and c) traceability data
To enable the long term business case utilizing prediction based on big data, short term business incentives need to be created : capturing incremental analytics value while pursuing the long term opportunity
Taisuke Minagawa, Ph.D.
Chief Data Scientist Digital Accelerator,  ABB Robotics & Discrete Manufacturing
AI in quality assurance – potentials, solutions, strategies".
Which potentials are made possible by AI in quality assurance?
Which solutions and approaches are already available?
Which strategies can producing companies pursue to increase the potentials?
Dr. Jan Kukulies
PRS Technologie Gesellschaft mbH
Lunch break, networking & specialist exhibition
AutoML – a game changer for scaling ML in production
Guided analytics: How the combination of AutoML and domain knowledge results in excellent ML models , -Democratization of ML: How the application of ML can be simplified for production experts, – ML end-to-end: How the transition from the entertaining model , -Example: Crating and operating a ML solution for a tooling machine in a Medtech production environmenttraining to the operational phase becomes successful
Tobias Gauckstern
Vice President Industrial Analytics, Weidmüller Group
Demand Forecasting with AI – A Case Study why Agile for Analytics is the best Approach
Dr. Berndt Pilgram
Infineon Technologies AG
Summary of the Conference & Closing Coffee