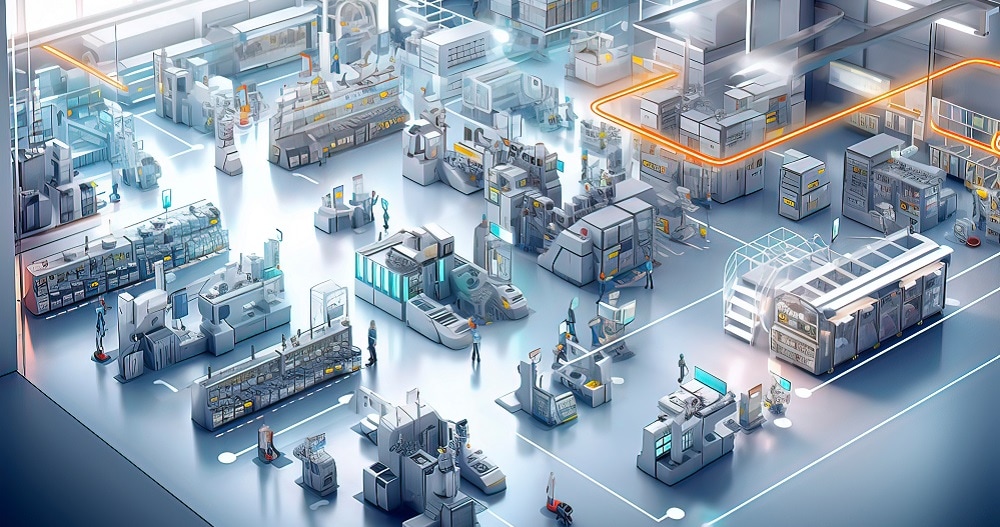 Production LIVE – a user congress
 The factory of the future has so far stood on two pillars: lean and digitally networked. Now there is a third aspect: Sustainable, climate-neutral. A triad that is ecologically necessary and meaningful in terms of content. The efficient, waste-free use of resources (lean) coupled with networking and transparency (digital) opens up potential for production without environmental influences (green).
But in addition to the aforementioned triad, the factory of tomorrow must also be resilient. What does that mean? The user congress provides an outlook and answers to the following topics:
LEAN
> The lean mindset makes the difference
> Man as conductor of the value-added processes
> Lean processes as the basis of every digitization
GREEN
> The way to the Co² neutral factory
> Double-digit energy efficiency potential within reach
> Green hydrogen as fuel for the factory of tomorrow
RESILIENT FACTORY
> Solutions for production when parts delivery is unclear
> Cybersecurity the question is not if, but when
> The adaptable factory requires flexible automation solutions
DIGITAL
> Digitization is the prerequisite for LEAN, GREEN and RESILIENCE
> Digitization for everyone – the way to your own digital roadmap
> Brownfield goes digital – How old systems become players in the smart factory
The congress is aimed at members of management, COO, CDO, plant and production managers as well as project managers from the areas of production IT, planning and corporate strategy/development, lean management and operational excellence managers.
We address the following sectors in particular: mechanical and plant engineering, electrical and automation industry, consumer goods industry, automotive industry, software houses and system integrators.
The event is planned as a hybrid event. In addition to the lectures, you can expect demonstrations and interactive sessions at the booths of our technology partners.
Here is an overview:
Hotel recomendation:
For guests who have to travel a little further, the Best Western Premier Parkhotel Kronsberg offers single rooms at a special price:
Single room "Economy" for €106 incl. breakfast
Single room "Business" for €126 incl. breakfast.
A call-off contingent is reserved under the keyword "Production LIVE" until October 13, 2023. After this time, room availability is no longer guaranteed.
Program – Thursday, 10/26/2023
The agenda is under construction for you – we reserve the right to make changes.
Registriation/ Check in
Arrive, get to know each other and first shop talk 
E2E-Factories
Prof. Dr.-Ing. Thomas Bauernhansl, Director, Fraunhofer Institute for Manufacturing Engineering and Automation IPA
E2E processes as drivers for productivity & sustainability
To remain competitive, factories of the future will have to make great leaps forward in terms of productivity and sustainability. End-to-end E2E processes are an essential driver here.
The Smart Company
Johann Soder, Managing Director Special Topics, SEW-EURODRIVE GmbH & Co. KG
How only process-oriented END2END business models secure the future of the industry
A smart company is more than an emergency measure for the current crises.
It is the company model of the digital age.
A smart company is versatile and adaptable, it recognizes needs faster, permanently optimizes its value chain and thus follows quickly to changing challenges and trends.
The power of change is the only constant.
Q & A with…
Univ.-Prof. Dr.-Ing. Thomas Bauernhansl, Head, Fraunhofer-Institut für Produktion und Automatisierung IPA
Johann Soder, Managing Partner Sonderthemen, SEW-EURODRIVE GmbH & Co. KG

The 5 natural laws of DIGITALIZATION
Johann Hofmann, Founder of ValueFacturing® sowie Leiter NC-Programmierung, Maschinenfabrik Reinhausen
The 5 most important insights from over 30 years of practical digitization experience
As a digitization expert from the very beginning, I have been involved in the digitization of production processes for decades. I know about successful projects, failed projects and distressed projects. In the process, I have experienced the same problems and the same mistakes over and over again. On closer inspection, it was always the same 5 issues that decided success or failure.
Small coffee break & Networking

Green and successful: How production becomes the engine for sustainability and competitiveness
Dr.-Ing. Stefan Aßmann, Chief Digital Officer Industrial Technology, Robert Bosch GmbH
The world seems to be in permanent crisis mode and the German manufacturing industry is feeling the effects. How manufacturing can make a significant contribution to mastering the current challenges, such as energy efficiency, climate protection and supply chain resilience, while at the same time strengthening competitiveness even in a high-cost location, will be demonstrated using concrete and encouraging examples at Bosch.
Flexible manufacturing: Digital consistency and flexibility thanks to the use of digital twins
Markus Berghammer, Director International Business Development Factory Automation, Phoenix Contact Electronics GmbH
In order to maintain production in high-wage countries, digitalisation is the means to an end. It is the turbocharger to "lean" and helps to make processes significantly more efficient. The presentation shows how we can make the transition from mass producer to manufacturer of individualised products and at the same time become more sustainable.
Q & A with…
Dr. Stefan Aßmann, Chief Digital Officer Industrial Technology, Robert Bosch GmbH
Johann Hofmann, Founder of ValueFacturing® sowie Leiter NC-Programmierung, Maschinenfabrik Reinhausen
Markus Berghammer, Director International Business Development Factory Automation, Phoenix Contact Electronics GmbH

Lunch, Networking & Besuch der Technologiepartner

Panel discussion: 100% automation – future or utopia?
Some experts argue that advancing technology such as artificial intelligence could enable many work processes to be fully automated. This could lead to increased efficiency, productivity and possibly even a better quality of life. Machines could perform tasks faster and more accurately than humans, thus reducing the burden on the human workforce.
On the other hand, there are concerns about the social impact of full automation. Many people are dependent on traditional jobs and could lose their jobs due to automation. This could lead to social inequalities and unemployment. There are also ethical issues, such as responsibility and control over automated systems.
The future of automation depends on many factors, such as political decisions, economic conditions, and social norms. The panel will discuss these perspectives and looks forward to an active exchange with the auditorium.

Moderation
Georg Wasserloos, CEO, macils.management-centrum GmbH

Oliver Reisch,
DELMIA Sales Expert – Management Director, Dassault Systèmes

Dr. Andreas Imhoff, Managing Director Operations, HARTING Electronic GmbH & Co. KG

N.N., OMRON Electronics GmbH
Digital plant tour – Volkswagen Commercial Vehicles
The digital plant tour at VW Commercial Vehicles from the plant in Hanover offers you the unique opportunity to experience commercial vehicle production up close by taking you on a virtual tour of the plant. Immerse yourself in the world of state-of-the-art manufacturing technologies and gain a detailed insight into the various production processes. Take part in this fascinating experience, which was specially developed for the User Congress and offers you an interactive and informative experience.
Small coffee break & networking

Digital Factory Tour – SEW EURODRIVE
Germany has many good factories. True pilgrimage sites, however, can be counted on one hand.
The SEW Eurodrive plants have been among them for many years. Now SEW has once again invested a high three-digit million amount in its German factories, pushing the limits of what is possible: Two-hour order throughput time for batch size 1 without finished goods inventory. Flexible small factory units with high problem-solving competence directly on the store floor. Mobile assistance systems that make driverless logistics possible. And yet: The focus is on people as the conductors of value creation!
Evening event – In preparation for you…
Program – Friday, 27/10/2023
The agenda is under construction and subject to change.
Arrival, coffee (or tea), network, and visit the technology partners.
Opening speech: Greenfield goes Digital
Ingo Hild, Plant and Operations Manager Schwabmünchen Plant, ams OSRAM
Transformation of a brownfield plant to a digital factory
he presentation shows the transformation of the industrial brownfield plant ams OSRAM Schwabmünchen to a smart factory. Employee mindset, networked production facilities, backtracking at individual product level, digital twin and AI algorithms actively support the zero-defect strategy owed to our quality claim.
Division into groups – rotation in the Smart Factory experience world
Experience first-hand the key technologies of the factory of the future through our exciting rolling technology workshops. Immerse yourself in an interactive and inspiring learning environment where users and technology partners come together for engaging discussions. Discover innovative solutions and best practices first-hand while engaging with leading industry experts. Our customized workshops offer you a unique opportunity to learn about the latest trends and developments in factory automation and Industry 4.0.

Technology partner visit (1 – 4)
Small coffee break & networking

Technology partner visit (5 – 7)
Lunch, networking and visit to technology partners

Technology partner visit (8 – 10)